Matthias de Sousa, an indentured servant, was the colonial Maryland legislature's only black member. As such, he is the first African American to serve in any legislative body in the United States.
De Sousa arrived in St Mary's City, St Clements Island, Maryland, in 1634 as one of nine indentured servants working for Father Andrew White, a Catholic priest, on the ship The Ark, along with White and other European settlers. According to land records, De Sousa was probably of mixed African and European (possibly Portuguese) descent, as a priest in the colony referred to him as a 'Molato' (Mulatto).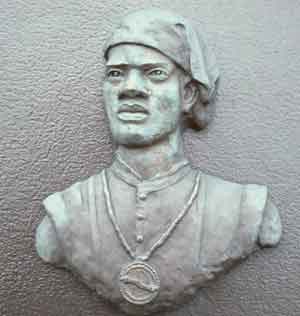 De Sousa worked for Jesuit priests during his first few years in Maryland, though the specifics of his activities are unknown. Such servants typically built and maintained churches and houses for the Jesuits.
De Sousa became a free man in 1638 after serving as an indentured servant for the required four years. He continued to work for the priests to earn money. He also traded English goods for animal furs and food with Indians. He commanded a small boat on a two-month journey to trade with the Susquehannock Indians in 1641. In 1642, de Sousa set sail as master of a ketch owned by Provincial Secretary John Lewger.
De Sousa left and returned to the colony's capital, St. Mary's City, several times. He voted as well, and in 1641 he was elected to the Maryland General Assembly, where he served until 1642. When the Susquehannock Indians attacked the English settlers soon after, de Sousa became indebted to John Lewger and planter John Hollis because he couldn't trade for furs. The last trace of Matthias de Sousa in the colony's records is a court order in 1642 requiring him to reenter indentured servitude. He was ordered to serve John Lewger for a limited time in order to repay a debt.
There is no record of de Sousa's activities after 1642, but Indians killed some colonists in battles in 1643, and other colonists became ill and died as a result of disease and a lack of food.