Have you ever seen a Black Africans with blue eyes? Did the person look EXTRAORDINARY to you? This article highlights the hidden secrets behind Africans with blue eyes. The typical reaction one might have when one encounters this phenomenon is that of awe, amazement, and even fear. There was a buzz in Nigeria sometime in 2020 when Risikat Azeez a young woman and her two kids were spotted with blue eyes in Kwara state. Predictably, the woman and her kids went viral on the internet and the phenomenon of blue eyes came into the fore burner of national discourse.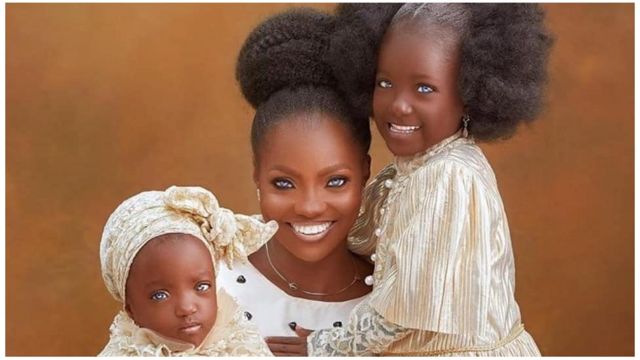 Misconceptions about Black people with blue eyes
Black people with blue eyes are thought to possess some supernatural powers that if exercised are capable of causing harm or good. Some people believe that a female black person with blue eyes is from a mermaid spirit wandering on earth for strange purposes. Some believe that blue-eyed Africans are cursed. However other people would admire a person with blue eyes and want to have such eye colour, some others may strongly believe that the person is wearing some type of contact lens that gives off a blue colour effect to the eyes. The rarity of the blue eyes phenomenon helps to reinforce all these beliefs. These misconceptions may appear laughable on paper but in reality, it is serious, because a large crowd may gather around a blue-eyed person in some African neighborhoods.
Can black people have blue eyes? The answer is Yes.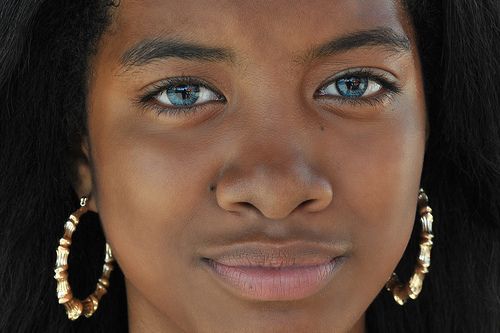 Common Ancestry And Genetic Mutation
People with blue eyes have a single, common ancestor, according to new research by a team of scientists. The scientists revealed that a genetic mutation occurred between 6,000 and 10,000 years ago and this mutation is the cause of blue eyes.
OCA2 gene is involved in the production of melanin, the pigment that gives colour to our hair, eyes and skin, the mutation affected this gene and led to the blue eyes phenomenon.
The mutation affected the so-called OCA2 gene, which is involved in the production of melanin, the pigment that gives colour to our hair, eyes, and skin.
Hans Eiberg from the Department of Cellular and Molecular Medicine at the University of Copenhagen, one of the scientists on the study states that originally, all humans had brown eyes until this interesting switch took place. According to him:
"But a genetic mutation affecting the OCA2 gene in our chromosomes resulted in the creation of a "switch," which literally "turned off" the ability to produce brown eyes." The OCA2 gene codes for the so-called P protein, which is involved in the production of melanin, the pigment that gives colour to our hair, eyes, and skin. The "switch," which is located in the gene adjacent to OCA2 does not, however, turn off the gene entirely, but rather limits its action to reducing the production of melanin in the iris — effectively "diluting" brown eyes to blue. The switch's effect on OCA2 is very specific, therefore. If the OCA2 gene had been completely destroyed or turned off, human beings would be without melanin in their hair, eyes, or skin colour — a condition known as albinism.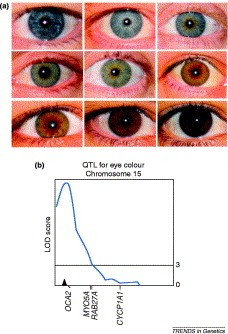 Waardenburg syndrome
If you are lucky enough to meet a black African with blue eyes, one of the things you should consider is that the blue eyes can be a result of a condition known as Waardenburg syndrome as seen in the case of little Rebecca ChogtaaDumeh from northern Ghana.
A group of genetic disorders known as the Waardenburg syndrome can alter the color (pigmentation) of the eyes, skin, and hair. Very pale blue eyes or eyes of different colors, such as one blue eye and one brown eye, are common in people with this condition. Sometimes there are two distinct color segments in one eye.
Waardenburg syndrome has no treatment or cure and is named after Dutch ophthalmologist Petrus Johannes Waardenburg who described the syndrome in detail in 1951.
African Tribe With Blue Eyes
Questions have been asked about the existence of an African tribe with blue eyes. The belief that there exists an African tribe with blue eyes is just a myth with no factual prove. Historians and researchers have not been able to point to a particular tribe with this condition. So there is no specific African tribe with blue eyes, rather you can find blue eyes in Africans from different tribes and it must be noted that this is rare.
Now you know the hidden secrets behind black Africans with blue eyes. Blue eyes are the result of a natural genetic mutation or a medical condition and do not carry any supernatural connotation. So when next you see an African with blue eyes, just admire him or her.
---
Our goal at Liberty Writers Africa is to teach our history, defend our people worldwide, and awaken the sleeping ones. Help us fund our researches and hire competent editors. Click HERE To DONATE to Us.