Jonathan Jasper Wright, the state's first African American Supreme Court justice, was born in Luzerne County, Pennsylvania, and grew up in nearby Susquehanna County in the state's northeastern corner. In 1858, Wright moved to Ithaca, New York, and enrolled in the Lancasterian Academy, a school where older students assisted in the education of younger students. He graduated in 1860 and spent the next five years in Pennsylvania teaching school and studying law.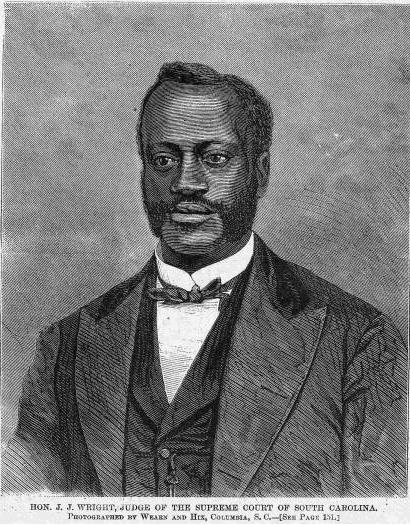 Wright's first known political activity was as a delegate to the National Convention of Colored Men in Syracuse in October 1864. The convention presided over by Frederick Douglass, passed resolutions calling for a nationwide abolition of slavery, racial equality under the law, and adult male suffrage. However, when Wright applied for admission to the Pennsylvania bar, he was denied due to his race.
Wright was sent to Beaufort, South Carolina by the American Missionary Association in 1865 to organize schools for freedmen. Wright educated and counseled the ex-slaves. In 1866, he returned to Pennsylvania and was admitted to the bar as the state's first African American attorney, thanks to a new Federal civil rights law. In January 1867, Wright returned to Beaufort as a legal advisor for the Freedmen's Bureau.
He quickly became involved in Republican politics, and he was elected as a delegate to the South Carolina Constitutional Convention, which met in Charleston in January 1868. Later that year, he was elected to represent Beaufort in the South Carolina state senate. Despite his age of 30 and lack of courtroom experience, the Republican-dominated legislature in Columbia appointed him to the state supreme court in 1870. He was joined on the bench by two white Democrats.
By 1876, white conservatives had gained control of South Carolina's government through deception, intimidation, and violence. However, Wright's concurrence in a February 1877 decision confirming the authority of a Democratic claimant to the governor's chair, Wade Hampton, brought an end to Republican rule in South Carolina, reconstruction, and Wright's tenure as a state Supreme Court Justice. When the new Democratic-controlled legislature attempted to impeach Wright for corruption and misconduct, he initially denied the allegations and vowed to defend his name and record. Wright resigned in August 1877, realizing he could not win.
Wright moved to Charleston to practice law, then to Orangeburg to establish the Claflin College law department. In 1885, Jonathan Wright died of tuberculosis in Orangeburg.
---
SOURCE:
Coleman, R. (2007, January 29). Jonathan J. Wright (1840-1885). BlackPast.org. https://www.blackpast.org/african-american-history/wright-jonathan-j-1840-1885/